Posts for tag: missing teeth
By Outlaw Dental
October 02, 2018
Are you unsure if dental implants are the best choice for your situation? Learning a little about this innovative restoration method can help you make a decision. Winter Park, FL, dentist Dr. James Outlaw of Outlaw Dental offers dental implants and other restoration options that restore your smile.
Should I Choose a Dental Implant?
Dental implants offer a long-term solution to tooth loss and may be a good choice in these situations:
You're Unhappy with the Gap in Your Smile: The loss of even one tooth is very noticeable and can make you feel a little self-conscious at work and in social settings. A dental implant topped with a dental crown will fill the gap in your smile and help boost your self-esteem.
You Want a Restoration That Can Last Your Entire Life: Unlike other restorations, dental implants actually become a permanent part of your jaw and act as synthetic roots. The titanium post bond to the bone as little as three to six months after they're placed in the bone during minor oral surgery. With proper care, most implants will never need to be replaced. Due to wear and tear, you'll need to replace your crown about every 10 to 15 years.
You're Not Happy with Your Dentures: Although implants are often used to replace single missing teeth, they're also an excellent option if you wear dentures. Each denture is connected to four or more implants in your jaw. Implant-supported dentures don't slip when you chew and don't decrease your biting power.
You're Concerned About Changes to Your Jaw After Tooth Loss: Without constant stimulation from your tooth roots, your jawbone may begin to eventually shrink. A shrinking jawbone can cause several unpleasant consequences, such as facial sagging or the loosening or loss of some of your other teeth.
You Prefer an Easy-Care Restoration Method: Taking care of dental implants is simple and only requires daily brushing and flossing and regular visits to your Winter Park dentist. Flossing around the base of your crown is particularly important and helps prevent an infection that may loosen the implant.
Fill the gaps in your smile with dental implants! Call Winter Park, FL, dentist Dr. James Outlaw of Outlaw Dental at (407) 671-6506 to schedule an appointment.
By Outlaw Dental
January 18, 2016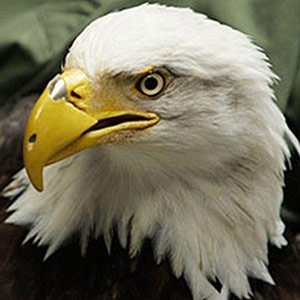 Imagine not having your upper teeth for talking and eating, not to mention your appearance, and you'll have some idea of what Beauty the bald eagle experienced after losing the top of her beak to a hunter's bullet in northern Idaho. She couldn't groom or feed herself and could barely drink water, relying instead on the conservation group that had taken her under their wing for assistance. But the magnificent raptor was eventually made whole and able once again to eat, drink and preen unaided. It took a visionary mechanical engineer and a very skillful dentist who designed and attached the first-of-its-kind bald eagle "dental" prosthetic — dubbed the "bionic beak."
Prosthetic Teeth for Humans
Fortunately, the field of human prosthetic dentistry (or prosthodontics) is much more advanced than it is for our avian friends. We have several options for replacing missing teeth (as well as parts of missing teeth) that restore aesthetic appearance and functionality while potentially preventing other problems such as the drifting out of alignment or loss of remaining teeth.
Bridges. As the name suggests, these custom-made devices span the area that is missing a tooth/teeth. Fixed (not removable) bridges are made up of an artificial tooth/teeth fused between two crowns that fit over your existing teeth or dental implants (see below) on either side of the gap. There are removable bridges, but they are considered temporary fixes.
Dentures. These are custom-made removable replacements for missing teeth. Partial dentures offer a removable alternative to fixed bridges and are used when some teeth are missing in an upper or lower arch (jaw). Full dentures are used when all teeth are missing in an arch. Replacement teeth are embedded in an acrylic base that fits over your gums and mimics their color.
Dental Implants. These are the closest thing to having your own tooth/teeth back. An implant is a small titanium post that is placed in the jawbone beneath the gum to serve the same purpose as a tooth root. Once the bone joins to the implant (a process called osseo-integration), a lifelike crown is attached to it.
We would be glad to discuss which option would be right for you.
If you have questions about tooth replacement, please contact us or schedule an appointment for a consultation. You can also learn more by reading the Dear Doctor magazine articles "Dental Implant Surgery," and "Crowns & Bridgework." Beauty the eagle's story of rehabilitation can be found here: http://blog.theanimalrescuesite.com.